HOT WATER HEATER TANK INSTALLATION, REPLACEMENT & REPAIR IN CALGARY, AB
Get the best service and cost on your hot water heater tank!
Say goodbye to cold showers and call Calgary Heating Services today, we have the experts on hand to bring back the warmth in your shower.
CALGARY HOT WATER HEATER TANKS
Offering you the best, brand name hot water tanks you can depend on! Whether you are looking for hot water heater repairs or maintenance our knowledgeable, trusted staff will be sure to have your Calgary hot water tank running back to normal in no time. When your Hot Water Heater breaks down, Calgary Heating Services has you covered with: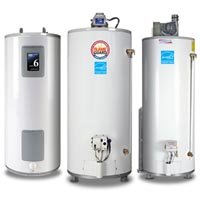 Same day emergency service – 24/7
On the spot repairs
Large inventory of in-stock parts
Professional, knowledgeable technicians
One year parts and labor warranty on all repairs
Call the professionals, we'll get your comfortable.
CALGARY HOT WATER HEATER TANK MAINTENANCE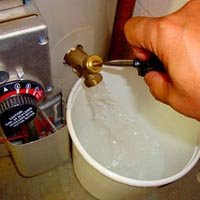 Keeping up with your hot water tank maintenance is very important to ensure a long life of your Calgary water heater and for your family and your own safety. Typically, your hot water heater should be drained every 8-12 months depending on the amount of people in your home. To ensure proper hot water tank maintenance call the professionals as they are fully equipped with expert staff and hot water tank equipment needed. Give Calgary Heating Services a call today.
CALGARY HOT WATER HEATER TANK REPAIRS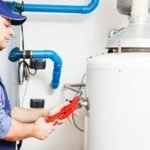 When the hot water heater breaks down it seems that the whole family is in need of a shower. Trust our hot water heater experts that are fully experienced to service all makes and models of hot water tanks in Calgary to get the job done just in time for your morning coffee.
WATER HEATER REPLACEMENTS
While our expert water heater personal will try and repair your water heater first, it is not always an option. You may need to purchase a new water heater if your old one can no longer be repaired. Calgary Heating Services has a long list of water heaters in Calgary to purchase. They will assist you with buying the right water heater for your needs and to comply with homeowner regulations. Get back to having warm water. Call us today.
The service was fast, cheerful, professional, thorough, and on time…
They were here at the time they said. Did the…
Service call for leaking around the furnace. It was a…
In August we had arranged for our central air system…
I woke up to a leaking water tank so I…
Great service from start to finish with this company. We…
Absolutely excellent services starting with my initial consolation to the…
After an inspection on our furnace the technician had tried…